Spaceborne Synthetic Aperture Radar Imaging is a form of radar technology that is used to create high-resolution images of the Earth independent of weather and at any time of the day (day and night)
GalaxEye's indigenously developed Imager – Drishti Sensor will fuses SAR and MSI systems to provide unique imaging data sets. The first version of Drishti sensor will carry MetaSensing's Spaceborne SAR payload.
Milan, Italy, March 23, 2023:
MetaSensing is glad to partner with GalaxEye in providing its state-of-the-art spaceborne Synthetic Aperture Radar (SAR) solution, including the space and the ground segments, for their first space mission.
GalaxEye, a SpaceTech start-up building the world's first multi sensor imaging satellite for earth observation has announced a new partnership with MetaSensing, a European company specializing in SAR technology. The partnership aims to develop a cutting-edge Spaceborne SAR Imager that will perform time & weather agnostic imaging.
With this new partnership, GalaxEye will have access to the state-of-the-art SAR technology developed by MetaSensing. It will enhance GalaxEye's high-resolution imaging capabilities, allowing it to offer its clients an unparalleled level of detail in their satellite imagery and further the advancements in the GeoSpatial industry.
Synthetic-aperture radar (SAR) is a form of radar that is used to capture two-dimensional images or three-dimensional reconstructions of images, such as landscapes, independent of weather, time and visibility conditions, through the motion of Satellite. The Italian company, MetaSensing, provides high-resolution SAR systems for airborne and spaceborne platforms for a variety of applications. The company has extensive expertise in every aspect of the radar technology, ranging including system and module design, firmware and software development, advanced SAR processing and radar assembly, integration and testing.
"We are excited to partner with MetaSensing to bring this advanced SAR technology to our clients. This partnership will not only help us go to space but will also help us set foot in the European Markets." said Suyash Singh, Co-founder & CEO of GalaxEye Space.
He further added, "The Satellite is expected to be launched in the early quarters of next year, and GalaxEye is well-positioned to continue its journey to become the leading provider of satellite data and imagery solutions. The partnership will allow us to expand our satellite data offerings and provide our clients with even more precise and accurate information."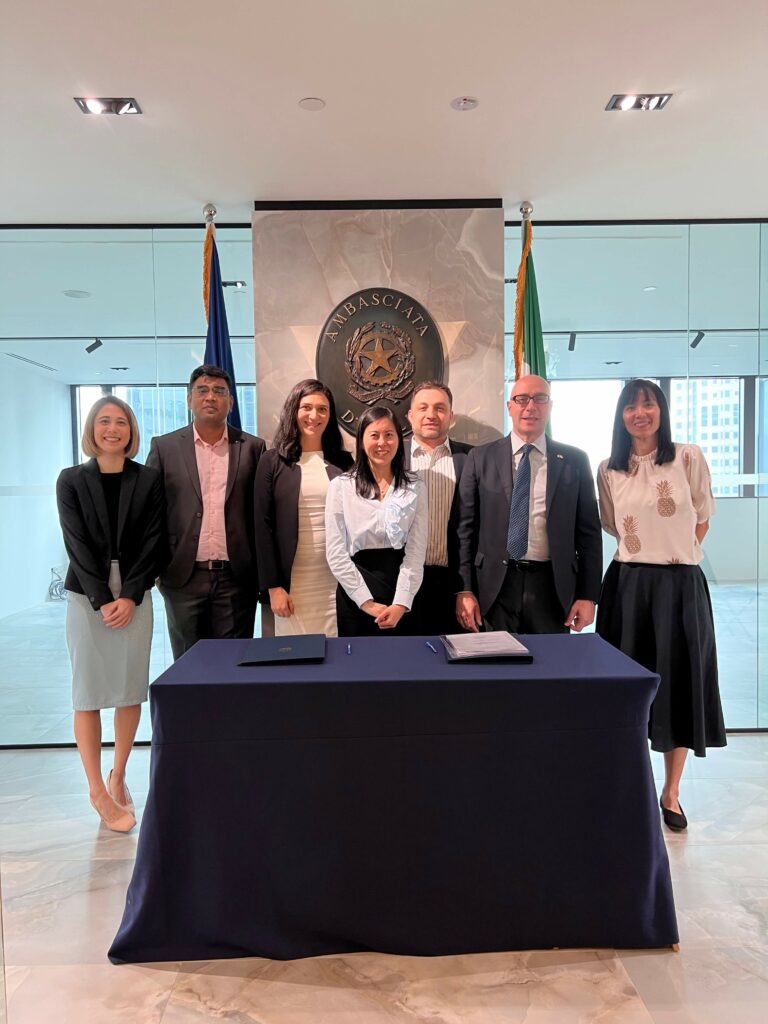 "This partnership with GalaxEye is a good opportunity for MetaSensing to showcase our innovative SAR technology. GalaxEye is one of the most sought Indian space startups and we are excited to support them with their project." said Adriano Meta, CEO and Founder, MetaSensing.
"The coming together of MetaSensing and GalaxEye heralds collaboration between two partners looking at accelerating the pace of space imagery and pushing the industry frontiers as we know it to be today- not just in India but the wider South-East Asia. These are indeed exciting times for all the GeoSpatial stakeholders, clients, and the industry at large," said Lynette Tan, CEO SSTL
"The agreement signed in Singapore between Metasensing and GalaxEye is an important step forward in fruitful cooperation in the space industry and proves the growing role of Singapore as a strategic hub, also in this strategic sector of development and innovation. The Italian Embassy will continue to promote contacts and networking opportunities for our companies to achieve mutual benefits and innovative results." said the Ambassador of Italy to Singapore, Mario Andrea Vattani.
About GalaxEye:
GalaxEye is a Space-Tech start-up building the world's first multi-sensor earth observation satellite. They are building a constellation of indigenous micro-satellites with data fusion capabilities. They are soon launching their first satellite, denoted as "Drishti Mission". GalaxEye has spun out of team Hyperloop of the Indian Institute of Technology Madras. GalaxEye features amongst the Tech30 startups of 2022 by YourStory.
For more information,
About MetaSensing:
MetaSensing is your expert partner for cutting-edge Synthetic Aperture Radar (SAR) technology.
We design, manufacture, and offer state-of-the-art SAR technology, including hardware with firmware and control and processing software for the Geospatial and Defence customers for airborne (manned and unmanned) and spaceborne platforms, covering the mapping, monitoring, intelligence, surveillance and reconnaissance (ISR) applications.
MetaSensing has its HQ, R&D and manufacturing facilities in Italy and offices also in Singapore and The Netherlands.
For more information,
info@metasensing.com
Media Contact:
For GalaxEye :
80 dB Communications
Shalini Jain | e: shalini@80-dB.com | m: +91 9818043714
Hena Kausar| e: hena@80-db.com | m: +91 9981216951
For MetaSensing:
Info@metasensing.com